The idea for this activity came from several conversations.
First, was with my granddaughter telling me about the rewards being offered at school to encourage children to walk. Although she walked to school every day she chose not to put her hand up.
Second, was a conversation with my son about how we all used to walk when he was a child and how walking connects children with their neighbourhood in a way that being driven about in a car doesn't. I remembered many conversations had while out walking with young children - to the shops, to school, to friend's houses. Walking was our main form of transport. You see so much when you walk that there is a never-ending source of topics.
The final inspiration came from discussions about the Growing Greener program and their use of cards to overcome climate anxiety and enable conversations about climate change. There is something special about the physical handling of cards, sorting, stacking into piles, that smooths social interactions.
I watch pedestrians now and many don't seem to look around them. Have they changed  - or is it that our streets have become more uniform and empty?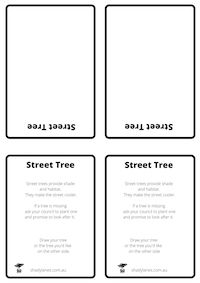 So this activity is to encourage people of all ages to look around them as they walk, and notice things, and create memories, as they personalise each card with their drawings or words.
When used in schools it can be used for all children, regardless of the travel mode, as an open activity to encourage a growing awareness of their neighbourhoods and how you see different things when you walk or ride or as a passenger in a car.
The templates are also suitable for adults of all ages to build their observation and memories.
One side is for drawing - the other has some conversation starters. Personalise, draw, and decorate any way you choose.
They can be used for sorting and swapping games. Most of all have some fun.
You'll find the free printable templates on the 0to5.com.au website here.
Subscribe to our newsletter for alerts about new activities and templates.